Well, this Friday is David's oral surgery (and no, he's not technically a baby anymore at nearly 18 years old). He has not three, not four, but SIX impacted wisdom teeth. How did that happen? I told him we can sign him up for the circus and make some money off this, but he didn't appreciate that thought. Sheesh, no sense of humor. So you know how I'm spending my weekend. Yep, nursing said son back to health. I still have to get the bags of frozen peas to use as ice packs.

Are you logging on to DSO's blog everyday to grab the freebies? You won't want to miss the cool stuff! And speaking of freebies, I'll give you a little advance notice of SAS' Trick Or Treat Blog Party. We'll be handing out the goodies on October 30 - not the 31st - so make sure to mark your calendars now!

Did you check out this week's SAS newsletter? There are some exclusive freebies in there!
My Too Cute To Spook collection is marked 30% off through Halloween. You can also pick up the TCTS Bitsy Add-On for only $1.00 - what a deal! Here's a layout of one of my boys when he was just a little guy, using Too Cute To Spook. Ain't he a cutie?

Here is a layout I made using my One Autumn Evening Quick Page set. (Yes, I know "pennys" is misspelled but that's how it is on the sign.)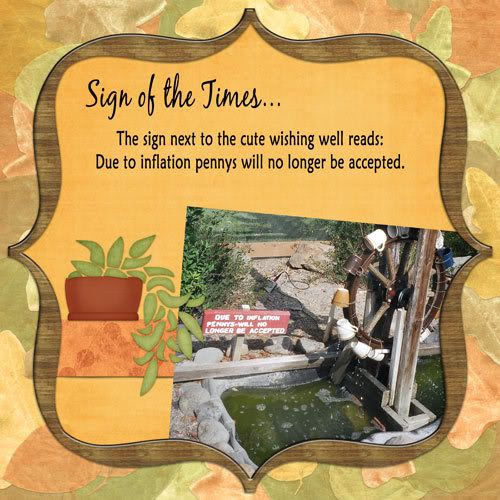 This week's freebie is a sampler that coordinates with
Merry Sunshine
. It's still sunny in the fall here in California, and the colors in this kit also work well for autumn layouts. No hotlinking or sharing, please. Click on the preview to download.